Galleria Boutique Salon is a full service boutique style salon, located in the heart of Salisbury, MD. A chic sanctuary with casual glamor and relaxed vibe just off Beaglin Park Dr. and minutes from Rt. 50 in Wicomico County offers services for women, men and children. At Galleria Boutique Salon we offer guests the latest hairstyling trends, advanced coloring, highlighting, glazing, balayage, cutting, extensions and more.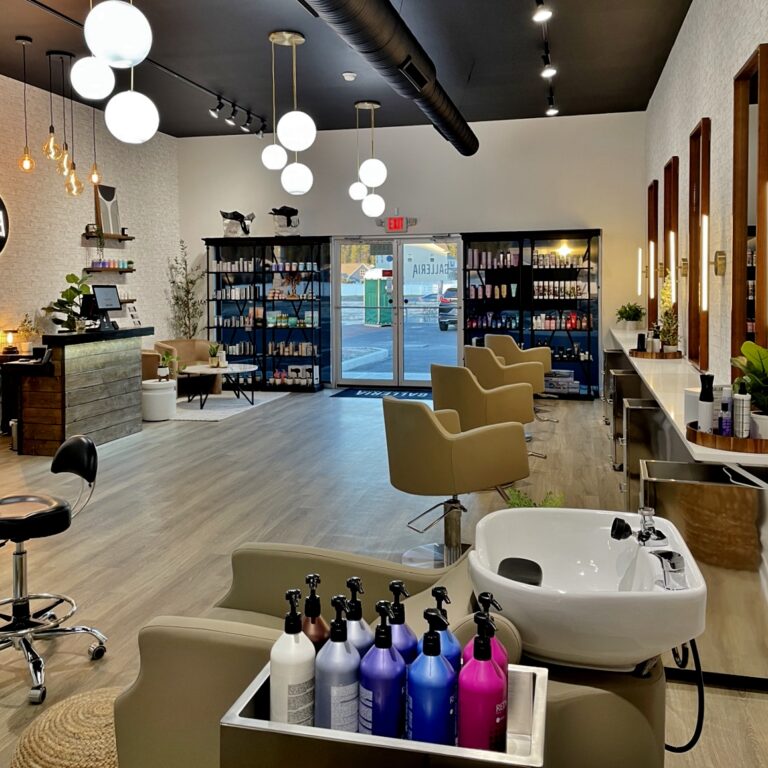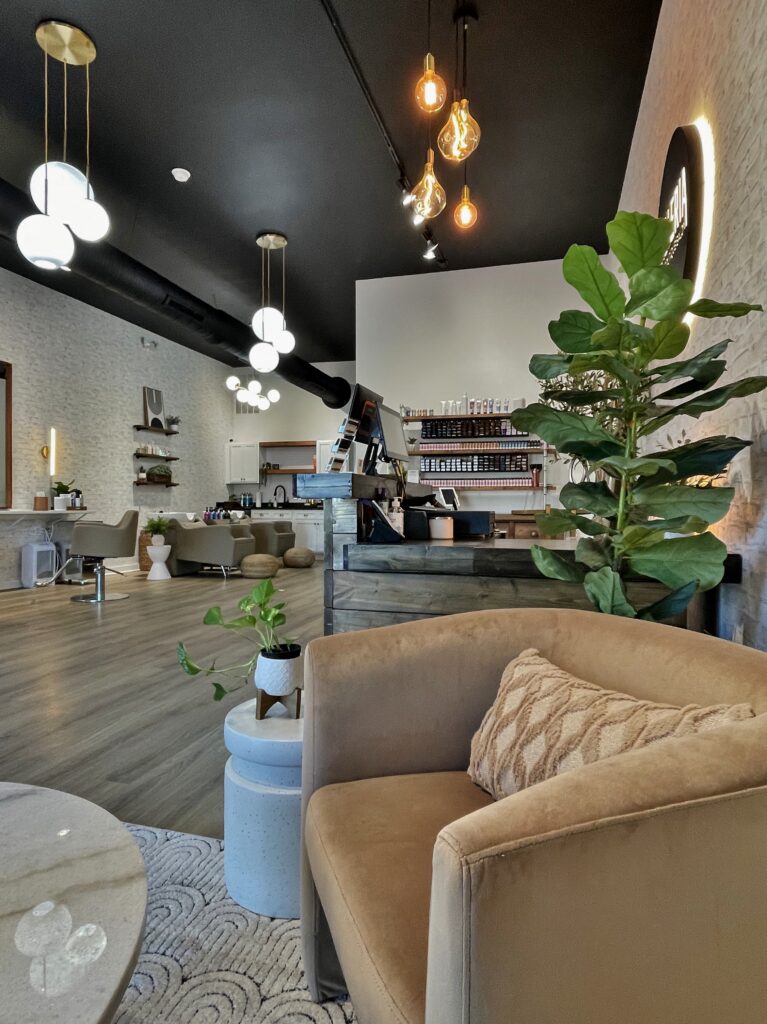 Galleria Boutique Salon invites you to experience unparalleled beauty pampering while relaxing with a refreshing beverage or a latte, and let our passionate and highly skilled stylist experts make you look stunning and feel your best.
Contact us or book online to see what our team of qualified professionals can do for you or simply drop in to check out our great selection of best in the industry beauty products and gifts.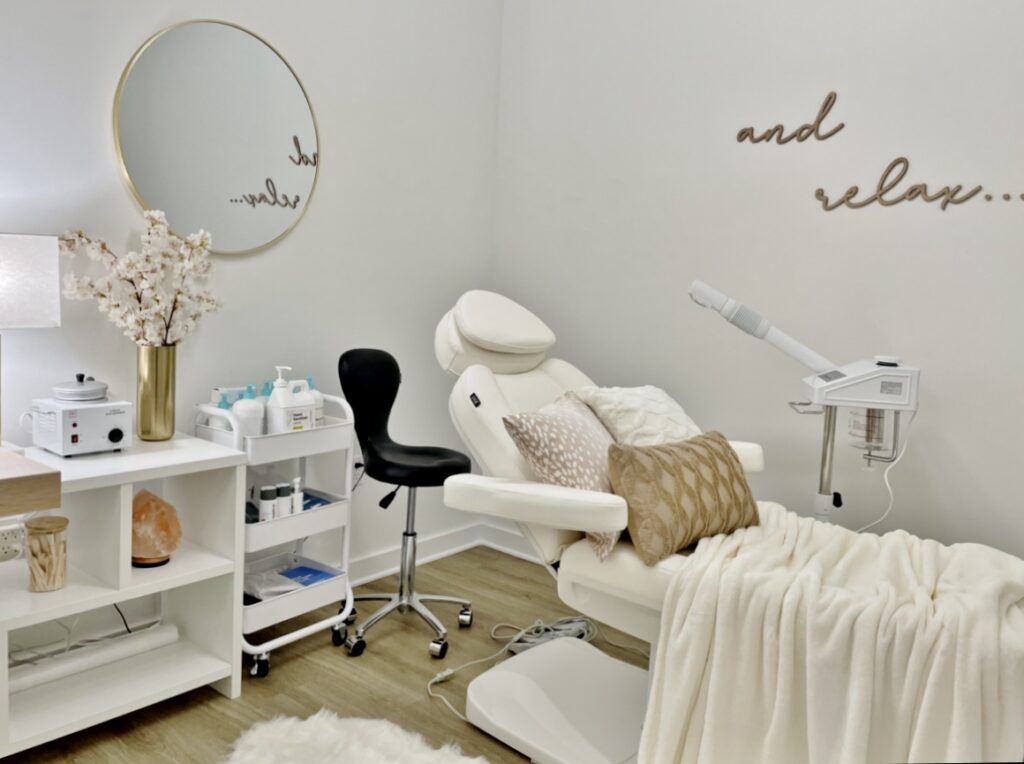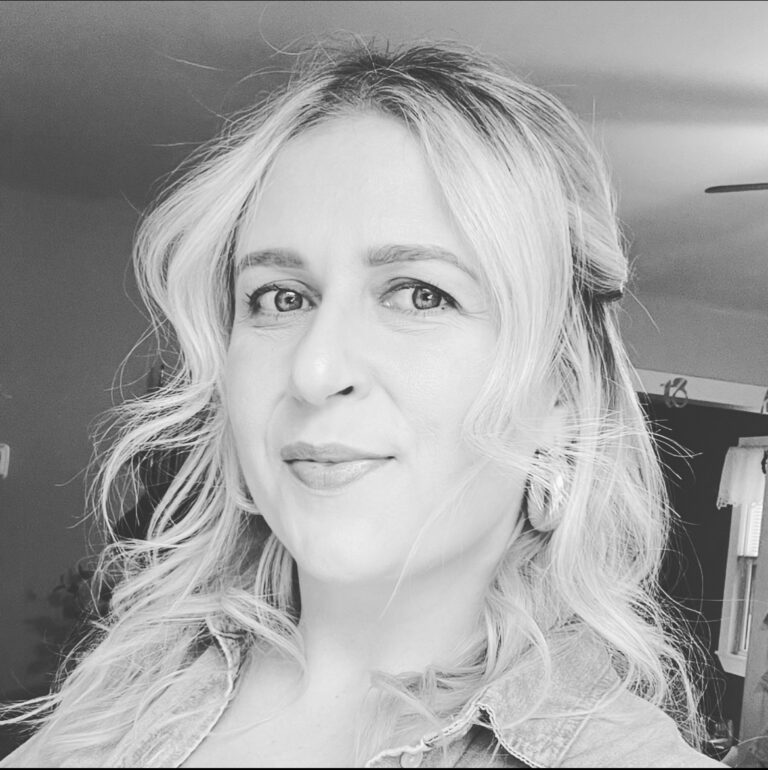 Inna Jevdokusina
-Owner/Senior Stylist
Having been in the industry for 14 years, combining my passion for hair and beauty, as well as personal growth I am happy to call galleria boutique salon my home. I enjoy doing beautiful transformations, Balayage, Foilayage, Highlighting, Color Melts, as well as making women feel empowered, beautiful, and confident. I have invested in myself, my education and you and am excited to give my clients all the expertise and craft I have to offer to provide the best salon experience possible. at galleria boutique salon I am focused on giving a personal experience and I want you to feel the best version of yourself. Welcome home . It's been a blessing and I can't wait to meet you!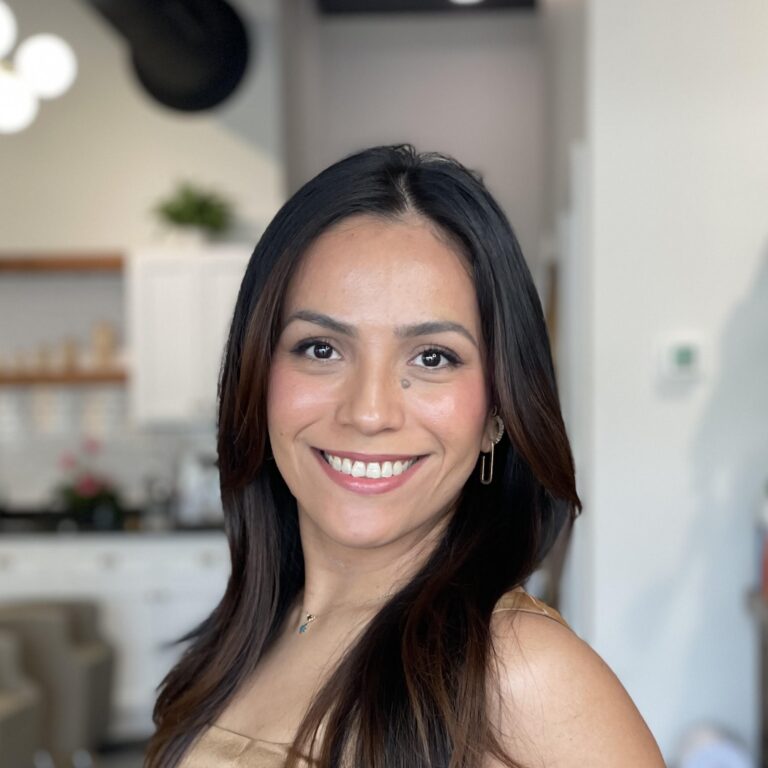 Betty Serna
-Cosmetologist
Hi, my name is Beatriz Serna, but I usually like to go by Betty. I moved to Maryland 9 years ago from Texas to be with my love of 15 years now. I'm a mom to a 2 year old frenchie. I think of myself as a beauty, fashion and health enthusiast. I've been in the beauty industry for about 9 years. I specialize in airbrush makeup, bridal updos, haircuts, all types of body waxing and not to mention hair color. I must admit I have a passion for hair. I love a good blonding technique (balayage, foilayage and root melts) or even an all over color transformation. I thrive on making others feel and look their best! I enjoy what I do and I'm excited to continue my career at Galleria Boutique Salon. I look forward to meeting new clients and making new memories with my original clientele that I love and appreciate for all their support. Can't wait to meet you all there!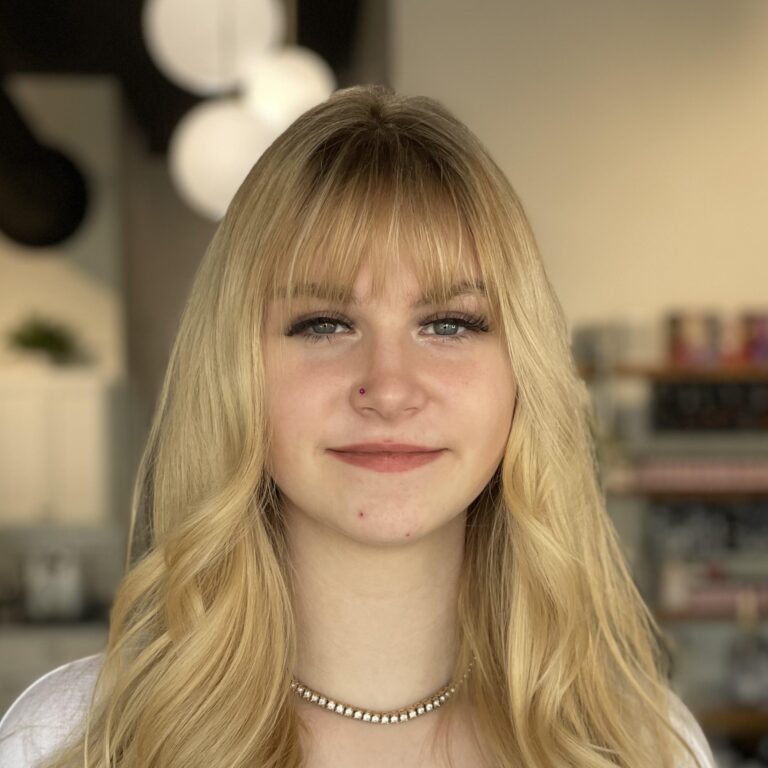 Kenzie Collins
-Hair Assistant/Apprentice
Kenzie started her apprentice cosmetology program with Galleria Boutique Salon and has been helping our hairstylists as a shampoo tech and hair assistant. Kenzie is homeschooled and loves doing art. She is passionate about learning cosmetology especially hair, makeup and nails in a salon setting.
> All of our services are A La Carte. All prices are based on a consultation and are dependent on amount of hair and length, technique, product used, etc. All prices are Starting Prices.
Face Frame/Money Piece Highlights
-A few foils around the face
-Must be paired with a haircut or blowout
-Full head heavy highlight/babylights
-Root touch up with permanent color
-Must be paired with a haircut or blowout
-All over permanent color
-All over Demi-Permanent Toner/Glaze
-Combines advanced lightening & Toning techniques for a transformative blonde result
-4 to 7 week global blonde touchup
-All over demi-permanent toner/glaze added to color service
-Demi-permanent root smudge added to color service
Add On Glaze and Rootblend Combo
-All over demi-permanent toner/glaze & root smudge
-Base root color added for gray blending or base lift
Men's Gray Blending Camo Color
-Gray blending men's permanent camo color
-Removing box color to go Lighter or correcting current color & tone
Price determined upon consultation.
-depends on product usage & labor
Haircut with Shampoo and Style
-Layered Cuts, Bobs, Lobs, Pixies
-Haircut without shampoo/style
-Traditional barber cut with minimal detailing
-Blowout not required
Curls or Flat Iron Added to Blow Dry
Event Styling Updo/Bridal Trail Hair
Apply Clip-In Hair Extensions
-Does not include the hair, blow out, or style
Hair Extension Consultation
Price determined upon consultation.
-Recommended for all bonding services
-In certain cases, Must be added on with lightener application
-Does not include blow dry or style
-R+CO, Redken
-Recommended after Highlighting/Color Service
-Soothing CBD scalp treatment that rebalances scalp's microbiome & calms irritation
-Does not include blow dry
Brazilian Keratin Smoothing Treatment
-Ultra strength keratin smoothing treatment
Keratin Smoothing Treatment
-Maximum strength keratin smoothing treatment
Color Lock Express Smoothing Treatment
-Keratin express smoothing treatment
Add On Color Lock Express Smoothing Treatment
-Keratin express smoothing treatment added to any color service
> In order to continue to provide the best scheduling options and availability for our clients and to protect our staff, galleria boutique salon enforces a very strict cancellation policy.
> We understand things happen, but we ask you to give us a courtesy notice. In the event that you need to cancel or change your appointment within 24 hour time period, a 100% charge of the service will be applied to the credit card we have on file. If you "no show" an appointment (do not give a notice, call or cancel, and do not show up for your appointment), 100% of your service will be charged. Rescheduling after a "no show" will be possible only after the full payment is collected. Thank you for understanding.
> Please give us a call if you are running late. We will try our best to accommodate you. Our late policy is 15 minutes.
> Late arrival: The allotted time for the service will be shortened accordingly with no fee adjustment or you can opt out of any finishing work (blowout, style, etc.). After our 15 minute late policy, depending on the circumstances, we may no longer be able to accept you for your appointment. Thank you for understanding.
Service Adjustment/Return Policy
> It is our #1 priority to make sure our clients are 100% satisfied with their service, experience and retail products offered at the salon. We strive to provide the highest level of satisfaction for our clients. We understand that sometimes your hair needs to be tweaked after your appointment. Please let us know within 7 days of your original service if any updates need to be made, and we will be happy to tweak it at no additional charge. After 7 additional charges will apply.
> If you are not quite happy with your retail purchase, Please return it within 15 days for a full refund.
Gift Certificates/Gift Cards
> All gift certificates and gift cards are non-refundable and cannot be redeemed for cash/monetary value/tip for service provider.
> Galleria Boutique Salon is not responsible for lost or stolen gift certificates or gift cards. Gift certificates/gift cards expire 2 years from date of purchase.
Bridal Parties/Group Booking
> Bridal parties and group bookings require a credit card to hold appointments
> prices are subject to change without notice.
> Payments at galleria boutique salon are rendered at the end of your visit.
> We accept all major credit cards and cash. No checks please.
> We also accept Apple Pay, Contactless Payment and COVID-Clean Checkout.
> In order for us to provide our guests with the best availability times, we encourage you to pre-book your next service prior to leaving the salon.
> Guests are welcome to arrive 10 minutes prior to their appointment to enjoy a delicious Latte, Cup of Tea, or or great selection of healthy refreshments and snacks.
> We also offer online booking and encourage our guests to book online to pick their desired time at their convenience. Our online booking portal is wonderful and extremely easy to navigate.
> Galleria Boutique Salon is not responsible for lost or stolen items including coats, accessories, jewelry, cell phones, etc.
> Please, allow extra time to arrive to your appointment (especially during summer season and traffic peak times).
Extra Guests/Friends Policy
> Due to limited space, the pandemic, and our desire to create the best environment possible for our clients and staff, we please ask that you come to your appointments alone (no kids, friends or family members are allowed in the salon unless they are in for an appointment).
> The only additional guests allowed on the salon floor are parents accompanying a minor or guest with special needs who has an appointment.
> Children are welcome in the salon by appointment only.
> If kids are in for a service, for safety and well-being, we ask that adult supervision be strongly enforced. Our policy strictly prohibits unsupervised children in the salon. Unfortunately the salon cannot provide childcare services. As a reminder, our salon is not child-proof. Sharp instruments, hot styling tools, chemicals, expensive equipment, and a busy, congested area make a potentially dangerous environment for young children.
> As much as we love pets, we do not allow any pets in the salon due to the health code (service animals only).
> Wearing a mask is optional at Galleria Boutique Salon and we respect everyone's decision to mask or not.
> Any discrimination will not be tolerated.
> Galleria Boutique Salon has not mandated vaccines for clients, staff, or management. Although a high majority of our team is vaccinated, we will not disclose any staff member's private health information.
> Any discrimination will not be tolerated.
Tuesday - Thursday: 9AM - 7PM